North Bay Air Cooled
North Bay Air Cooled is a vintage Volkswagen club. It was the vision of founders Don Haugen and Alex Weeks. North Bay Air Cooled was founded in July 2013 in Napa, California.
FOR IMMEDIATE RELEASE:
COVID-19 Ruined My 2020 Car Show Season
Every year, North Bay Air Cooled partners with Vacaville Volkswagen and Sklnner Classics to raise money for the Vacaville Neighborhood Boys & Girls Club. Last year, our car show raised almost $8,000! Sadly, this year we had to cancel the car show due to the COVID-19 pandemic.
Like many organizations, the Vacaville Neighborhood Boys & Girls club has been impacted by the pandemic. They need our help more than ever! That's why Kerri Schillinger and Leslie Silver from Vacaville School of Rock came up with a great idea! Since we can't have the car show, and can't sell shirt for the car show… let's have a fundraiser and sell some fun shirts that memorialize a summer with no car shows! Let's do something that we can share with all VW clubs, and even non-VW clubs.
How can you help? Help us promote this fundraiser! Buy a shirt! Share this on car club pages you are a member of and share on your Facebook timeline. The shirts will only be available for sale until until June 15th! Shirts will be printed after the campaign close date. You can either choose to have the shirt shipped directly to you (for a small shipping fee), or shipped to Kerri. You can then either pick up from her in Vacaville, or at the next meet up (looking like July).
PLEASE HELP SHARE THIS!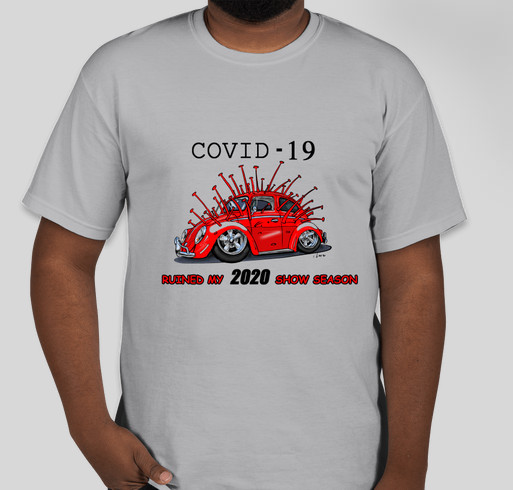 North Bay Air Cooled currently has over 400 members registered on its Facebook Page and has roughly 60 active members in Napa and its surrounding cities. The club allows members to network on all subjects regarding air cooled Volkswagens. Unlike some clubs, North Bay Air Cooled welcomes ALL Volkswagens from the "air cooled" era. Car models currently owned by North Bay Air Cooled members include:

Beetle
SuperBeetle
Karmann Ghia
Split Window Bus

Bay Window Bus
Squareback
Notchback
Volksrod / Frankenrod

What does North Bay Air Cooled Do?
North Bay Air Cooled works to support and educate the community. By supporting local charities, participation in the annual Napa July 4th and Christmas parades, and as of 2017 holding an annual car show!
North Bay Air Cooled holds monthly meetups and cruises on the first Saturday of each month at the In-N-Out Burger on Imola Ave in Napa, California at 5pm. In July members gather to celebrate the founding of the club and in December members meet to celebrate the holidays.
The members of NBAC encourage all Bay Area vintage Volkswagen owners to attend our events. We love meeting new people and new air cooled cars. To learn more about membership check out our african american dating in houston.
Our objectives are:
To have fun!
Promote the preservation and operation state of classic air cooled Volkswagens.
Create a network of members who support each other mechanically, through sharing of ideas, and sometimes even emotional support.
To educate others on the joy of owning, driving, and working on a classic Volkswagen.
Support other Volkswagen clubs, and the greater "Volkswagen Community" at large.
To build friendships with fellow Volkswagen lovers.
---
You can also find us at:
escort gay en mexico city – Our Facebook Group where members share pictures, ideas and ask questions.
top most florida dating site – Our official Facebook "Page" to hear about official news and upcoming events.
https://www.facebook.com/groups/NBAC.BST/ – Our "Buy, Sell, & Trade" page. If you are looking for parts, or have something to sell this is the page for you! Free to join!
https://twitter.com/NBAirCooled – Our official Twitter account. Find us @NBAirCooled
https://www.instagram.com/northbayaircooled/ – Our official Instagram account.